Kitchen Plants Decor
Kitchen plants decor is a great way to add interest and freshness to your kitchen design, including herbs, succulents, air plants or tropicals.

For kitchen design accents & accessories, check out my store at Kazoo Decor.
Subscribe in a reader
Benefits of Kitchen Decorating with Plants
These are just some of the benefits of decorating your kitchen with plants:
Affordable - small plants are quite cheap, but can create a big impact in your kitchen space
Easy - houseplants are quickly replaceable, so it's easy to purchase an attractive plant for your kitchen counter and replace it when needed
Clean the air - many plants will help to remove impurities from your indoor air
Create a welcoming environment - houseplants add relaxing color and freshness
Fresh greens - a container with herbs or microgreens is an attractive, functional, and healthy addition to your kitchen.
Kitchen Plants
Which plants are good for kitchen decor?
For low-maintenance kitchen plants decor, choose from some of these houseplant options:
Tropical house plants with glossy leaves that are resistant to evaporation
Succulents and cacti that don't need frequent watering and stay small
Herbs, onions or sprouts that you can regularly use and replace
English ivy is a tough plant that can grow in your kitchen with minimal attention
Add a pop of color with common blooming houseplants such as kalanchoe
Air plants are an easy choice, since they require no soil and only the occasional spritz of water to look their best.
Pothos or spider plants are great for hanging baskets
ZZ Plant will grow quite tall, but easily tolerates even the darkest corners of your kitchen
How do you keep plants in the kitchen?
Consider how much light your kitchen gets when selecting your plants. 
If your kitchen has windows, place plants that like bright light in a south-facing window, while north-facing windows will be best for plants that prefer indirect light.
If your kitchen is windowless, you can easily install under-cabinet grow lights to provide the light that your plants will need to look their best.
Also, all plants will need regular watering - some more frequently than others. Keeping your plants in groupings of similar water needs, or growing them close to your sink, will make it easier for you to stick to a regular watering regime.
Succulents in Kitchen
Kitchen Succulent Plants
You can use many different types of succulents as kitchen decor. 
For example, Aloe Vera - this is an easy-to-care-for succulent that doesn't need intense, direct sunlight to be happy. Make sure to let it dry out well between waterings. Aloe is also very beneficial if you burn your finger while cooking - just snap off a leaf and apply the natural inner gel to your burn.
Read more about keeping succulents in the kitchen here.
Succulent Kitchen Table Centerpiece
A great way to display succulents in your kitchen is to use them as a centerpiece on your dining table. Succulents stay small, need very little water, and come in an amazing variety of shapes and colors, making for an eye-catching display.
Edible Kitchen Plants
Kitchen Herb Garden
Herbs are an obvious plant to grow in the kitchen, since they have many culinary uses.
For a sunny kitchen, you can grow pots of basil and rosemary.
If your kitchen has lower light conditions, then stick to less light-hungry herbs like parsley, mint and chives for your kitchen plants decor.
Grow Sprouts or Greens in a Cute Pot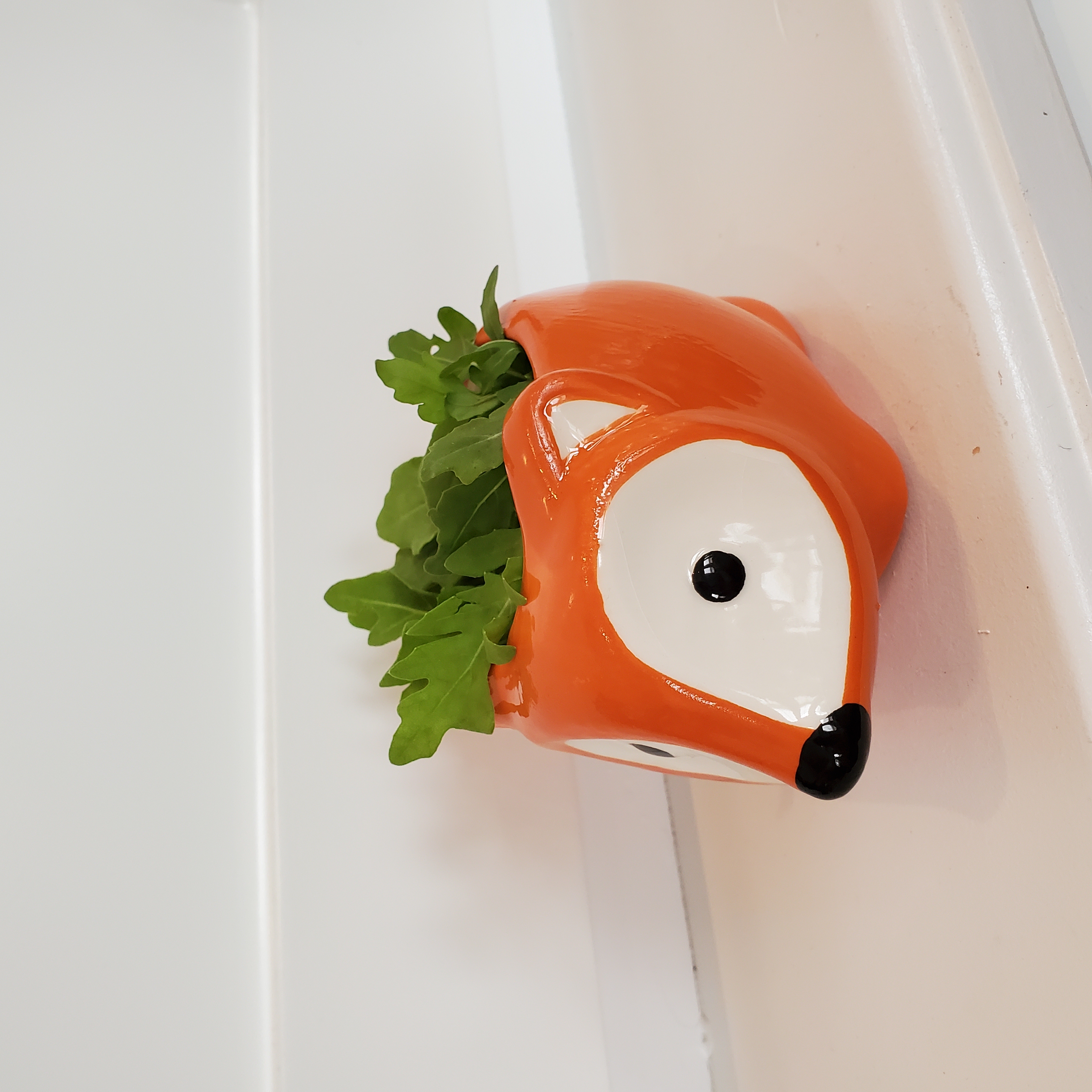 There are so many cute pots or upcycled containers that you can use to grow sprouts or greens that also add a lovely decorative touch to your kitchen.
For example, this little fox pot makes the perfect planter for microgreens or small herb sprouts on your kitchen counter.

You can purchase this fox microgreen sprouting kit in our Etsy shop here.
Kitchen Plant Ideas
Plants on top of kitchen cabinets
The top of your kitchen cabinets is often wasted space, so it's a good place to add some greenery and freshness in the form of hanging or spreading plants like English Ivy or Pothos.
Artificial greenery for kitchen plants decor
You can find many types of very realistic artificial plants to decorate your kitchen: faux succulents, dried grasses, or silk greenery can all make great additions to your kitchen design.
How to decorate kitchen with plants
For eye-catching kitchen plants decor, keep these tips in mind:
Match or coordinate the colors of your plant flowers or pots with your kitchen decor
Contrast the colors of plant leaves with your kitchen: against dark cabinets or countertops, use bright green or pale colored leaves, while dark green leaves will pop in a white kitchen.
Use tall plants to add interest to plain walls or unused corners in your kitchen
Add small hanging pots of herbs to your kitchen wall
Create a kitchen table centerpiece with a grouping of small, colorful houseplants
Frame a kitchen window with hanging ferns or herbs on the windowsill
Group contrasting plants for an interesting composition
If your kitchen gets no light and/or you don't think you'll be able to keep a living plant alive, then there are many realistic faux plants that you can choose from, or opt for wall art of plants and flowers instead
Recycle kitchen containers as plant pots: tea or coffee tins, teapots, coffee mugs, yogurt containers can all be recycled as planters.
---