Tuscan Kitchen Design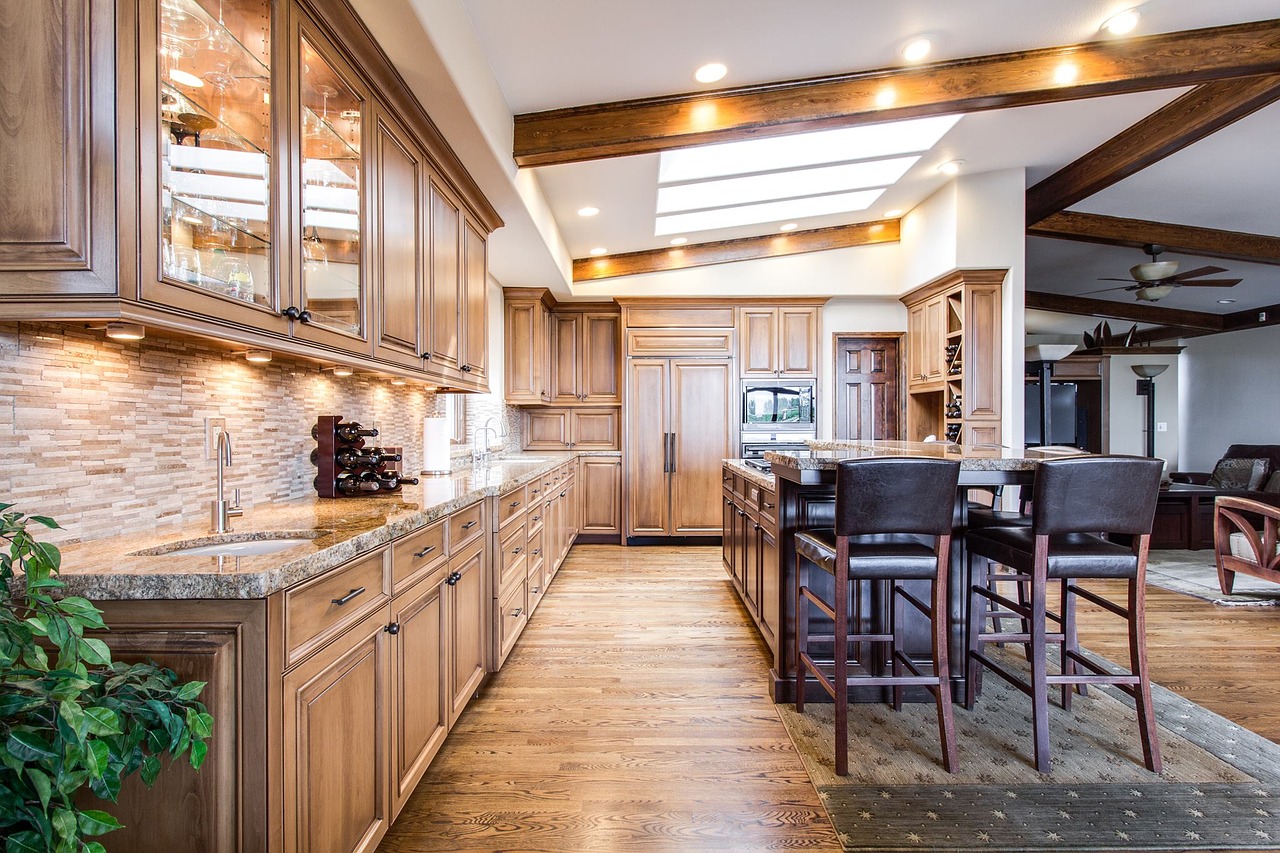 A Tuscan kitchen evokes the warm, welcoming feeling of an Italian countryside villa and the beautiful wine regions of Tuscany. 
Use Tuscan design to bring the romantic Italian lifestyle into your home, even if you live far from Italy!
Keep reading to learn more about how to bring Tuscany to your kitchen, and get ideas and inspiration for Tuscan kitchen decorating.

For kitchen design accents & accessories, check out my store at Kazoo Decor.
Subscribe in a reader
Characteristics of Tuscan decor
Some of the key features of Tuscan style home decor include:
warm woods, 
terracotta tile,
brick or stone oven or wall surround,
wrought iron pot rack, or copper pots,
a rustic mix of natural surfaces & textures, 
warm and sunny hues based on nature, such as the colors of warm red clay, green trees and vine leaves, sunsets, grapes & wine colors, olives,
a warm, lived-in, well-loved vibe - a place to relax and spend time - like a vacation villa - rather than somewhere to rush in & out, grabbing a quick bite,
old-world European style.
Tuscan style decorating is similar to Mediterranean design, but is more evocative of the Italian countryside rather than oceanside (Mediterranean design introduces more blues & yellows from the beach & sea).
Italy's Tuscany region
Tuscan decor is named after Italy's famous Tuscany region - the birthplace of the Italian Renaissance.  The region is well-known for its food, wine, history, and natural beauty.
Tuscany is located in central Italy, and encompasses rolling hills, vineyards, and Mediterranean coastline.
Who should choose a Tuscan style kitchen?
When might you want to choose Tuscan kitchen decor?  
If you enjoy warm, welcoming spaces, you enjoy nature, you enjoy wine... then this will be a good design style for you.  Keep reading to learn more about Tuscan style kitchen decorating.
If you're not doing a full kitchen remodel, but working with an existing kitchen, then a Tuscan kitchen design will work best if you have natural wood cabinets (or painted in a light, natural hue), and natural-looking flooring (wood grain and/or natural stone/tile).
Tuscan design colors
Typical Tuscan kitchen colors reflect the rich soil, sunshine, vineyards and rolling hillsides of Tuscany: terracotta, soothing yellows, burnt orange, sage green, ocher, browns, olive green, lavender purple, the rich reds and oranges of sunset, with touches of Mediterranean blue from the sky and sea.
This image of a sunset in Tuscany shows the range of colors available to choose from: sage and olive green in the plants, dusky oranges and pinks in the sunset, sky blue, terracotta clay, and deep purples in the clouds.
Tuscan kitchen design elements 

Tuscan Kitchen Themes
A number of decorating themes fit well with a Tuscan kitchen design, such as:
Wine decor
Mediterranean decor
Surfaces
Incorporate matte or distressed surfaces, rather than a shiny or sleek modern look. For example: natural stone countertops rather than a shiny granite. Natural stone and brick is often an important component in the Tuscan kitchen: on walls, floor, or through a brick oven or archway.  Sometimes stone veneer can be applied to achieve the same effect.
Windows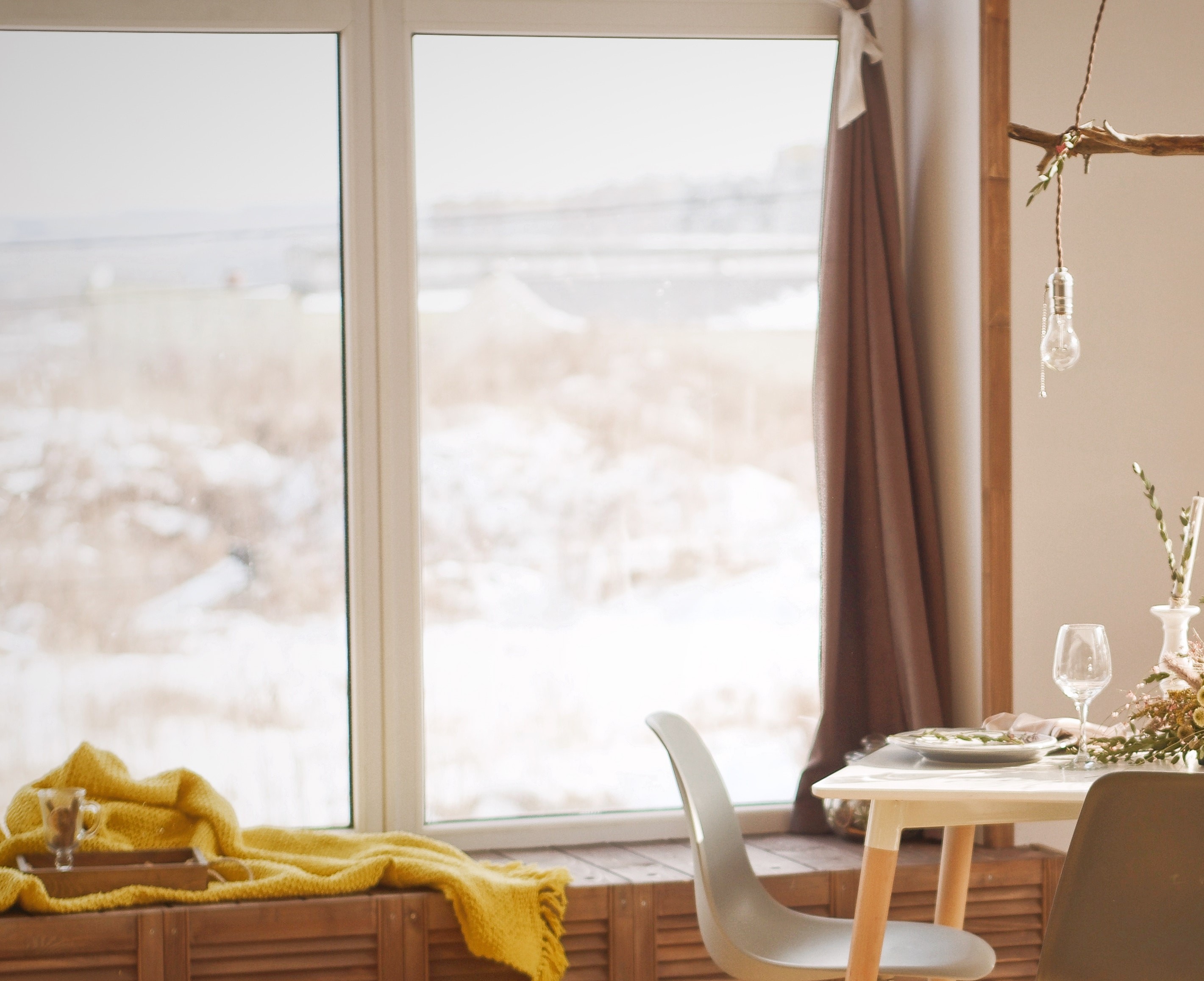 Ideally, natural light should fill the kitchen, with open windows with light, airy window coverings.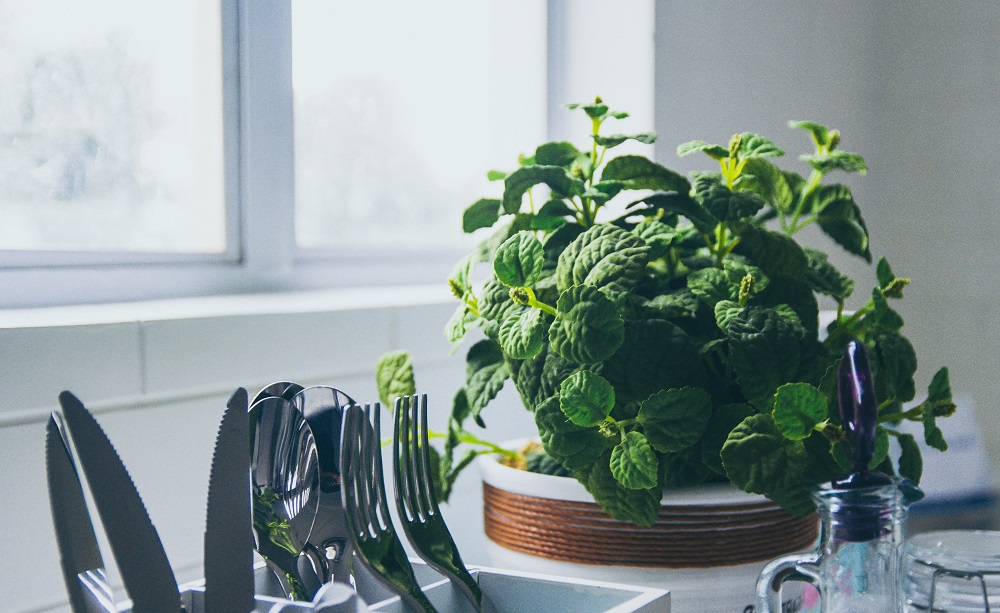 Another way to introduce the Tuscan natural light-filled effect could be to have window boxes with flowers or overflowing pots of herbs by the window.

Tuscan kitchen curtains can also add a pretty touch to the windows in a Tuscan kitchen, and can be quite effective if your kitchen window view is not really evocative of the Tuscany countryside.
Furniture
A Tuscan kitchen will often include a rustic table and/or benches of raw wood.  This could be reflected in the design of a kitchen island with a butcherblock top.
Walls and Ceiling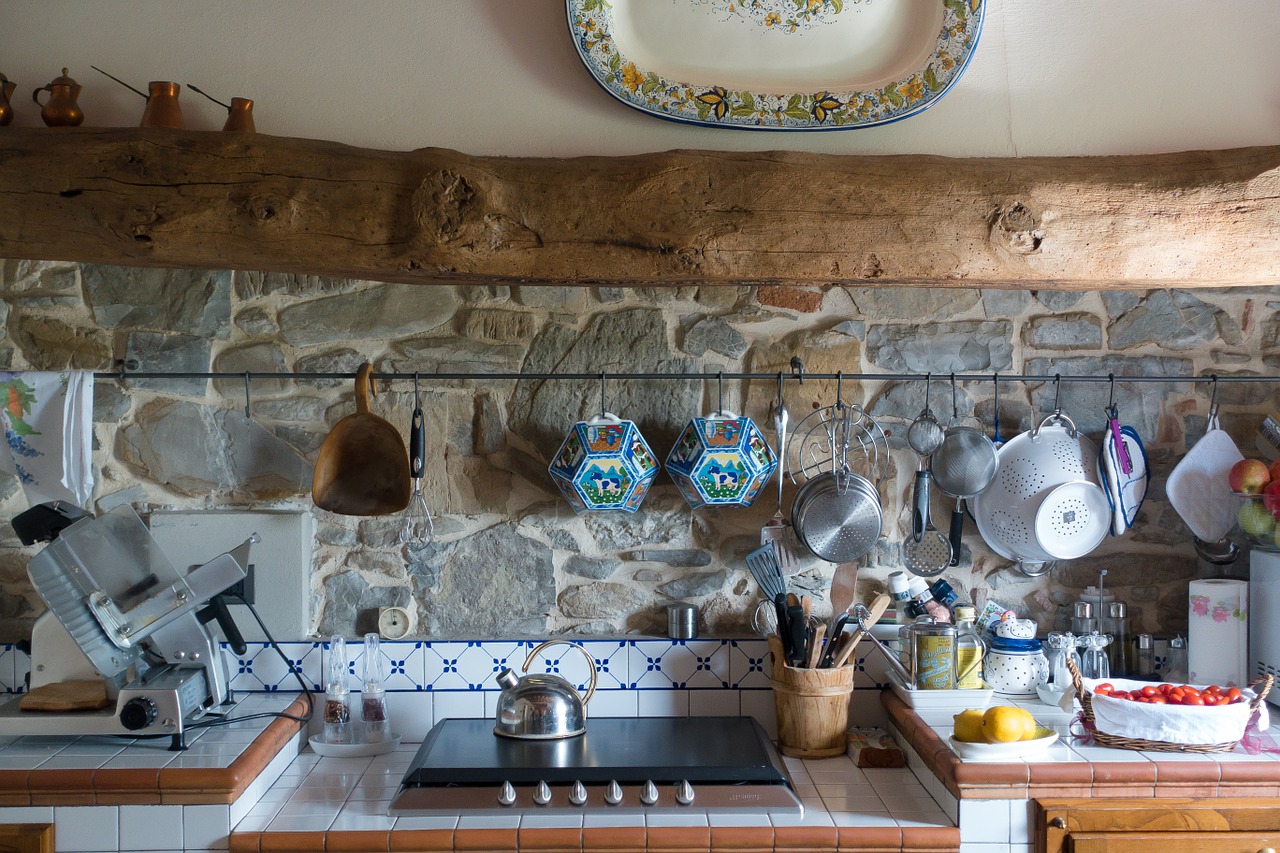 Exposed wood beams are common in Tuscan kitchens.
Archways are fairly common in Tuscan design, either as doorways or to form an archway over the stovetop to hide the vent area, creating a look that is reminiscent of a traditional brick or stone oven.
Stone or brick accent walls or fireplace are common.
Backsplashes could incorporate mosaic tiles or terracotta - usually with a more matte not glossy finish (although a little shine can be okay in the backsplash, given that is easier to clean).
Flooring
In a Tuscan kitchen, floors will usually be terracotta tile, or ceramic or marble tile in natural colors and finish. Ideal flooring for a Tuscan kitchen is terracotta tile, or travertine stone. Distressed wide-plank hardwood can also bring a unique Tuscan look.
Other Tuscan design touches
Adding a wine cellar off the kitchen, or a "wine nook" in a smaller space, can also be a great way to bring a Tuscan feel to your kitchen.
Tuscan decor accents
Tuscan kitchen decorating should reflect the art of Italian cooking: copper pots or utensils, earthenware bowls, jars of beautiful pasta or olive oil, wine, bread, or spices.

There can be simple ways to add a little Tuscan style to an existing kitchen: add some stone veneer to an accent wall, add a tile backsplash behind the stove, add copper or bronze accents, and use Tuscan themed colors.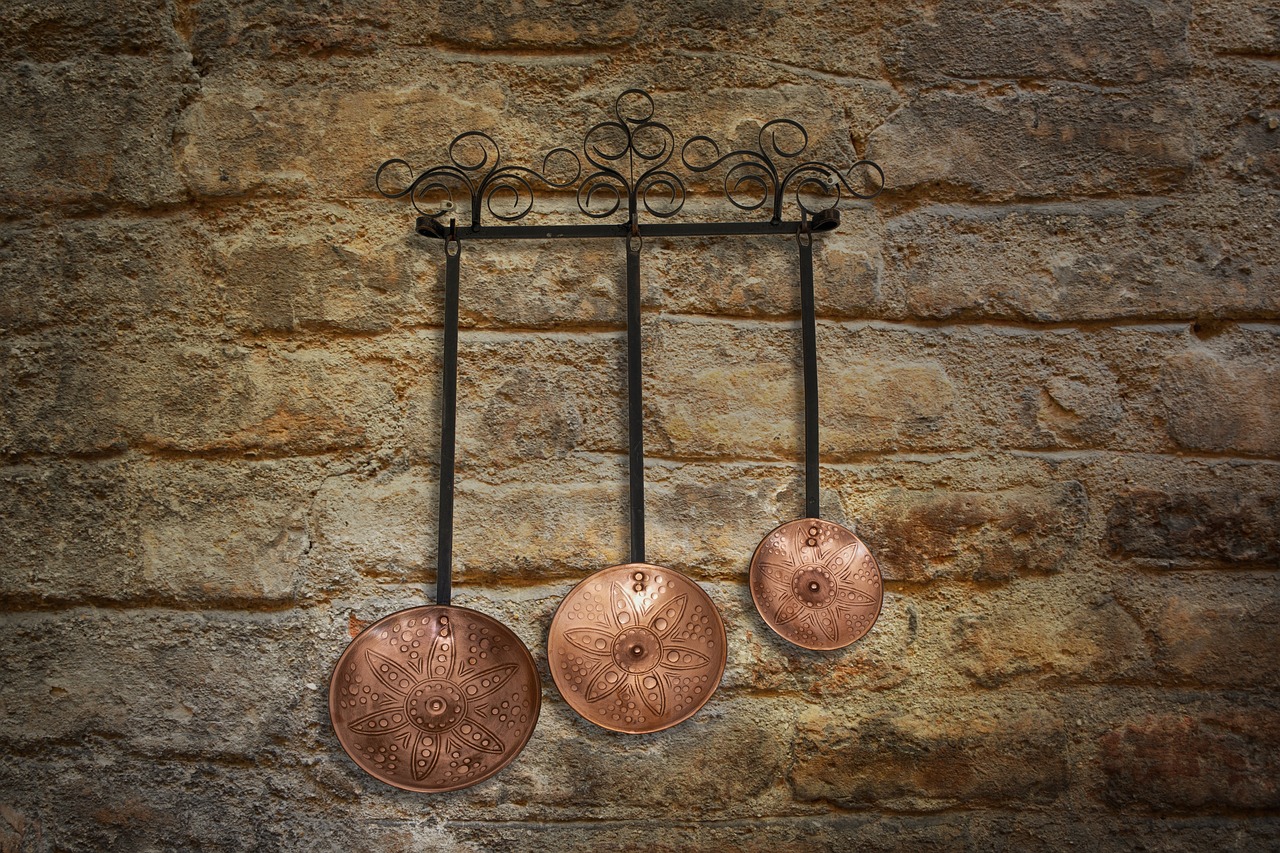 You can add decorative metal items in wrought iron, bronze, copper, pewter or brass.
Add Tuscan kitchen wall decor to continue your theme: copper pots, wrought iron utensil racks, wine-themed art, spice racks, etc.

Food is central to the lifestyle in Tuscany, so Tuscany kitchen decor should reflect that in the design accents and motifs. You can also use wine themed items, such as a decorative wine rack, or pretty wine bottles.

Accents can be in bold colors such as red, yellow, or blue, such as in a tile backsplash, pottery, ceramics or glass jars.
Other ways to add Tuscan design include adding earthy texture with terracotta, weathered wood, distressed or aged surfaces, and metals that take on a patina: bronze, copper, pewter, brass.
Finally, you can finish off your Tuscan theme kitchen decorating by:

dressing up your kitchen table with a Tuscany tablecloth, 
adding Tuscan kitchen canisters on your countertop,
add a pretty Tuscan themed rug,
display some vintage Italian pottery, such as pitchers, creamers or jars, like this pretty pink Italian creamer,
feature Italian wine art on your wall, like these canvas prints.
Tuscan Kitchen Decor in the Store
Check out these featured items available in the store to add to your Tuscan kitchen:
---
Hopefully this has given you a good overview of Tuscan decor for kitchen style. Get more Tuscan kitchen decorating ideas here. 
Have fun with your home decor, Tuscan style!
Explore more Tuscan decor accents here.
---