Fat Chef Kitchen Decor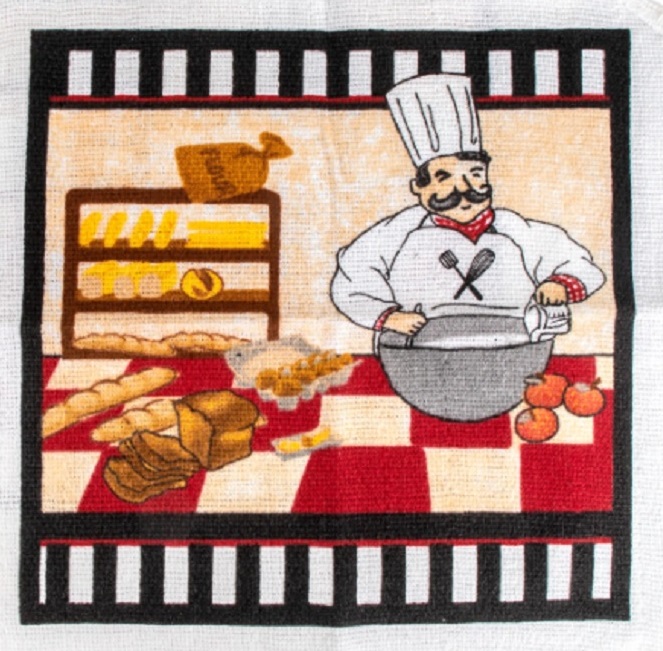 Chef kitchen decor can add a touch of whimsy and interest to your kitchen space, and highlight a French, Italian or Bistro kitchen design.
You can find kitchen linens, wall art and other accessories featuring fat chefs, pizza cooks and other chef-related themes.


For kitchen design accents & accessories, check out my store at Kazoo Decor.
Subscribe in a reader
These are just some of the accessories you can use to decorate with a fat chef theme:
kitchen towels, 
oven mitts and potholders, 
curtains, 
placemats, 
countertop accessories,
wall art and plaques.
Fat Chef Curtains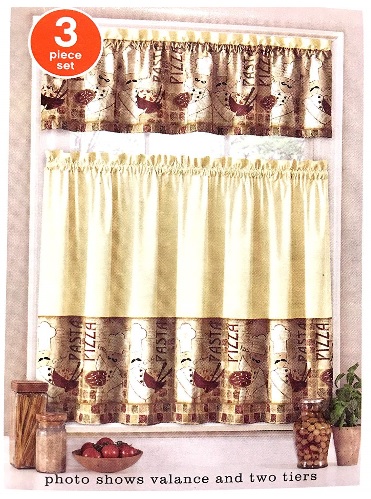 You can frame your kitchen windows with valence curtains in a chef design, like these that feature a fat Italian chef with pasta and pizza.  These curtains are available in the store here.
When choosing curtains for your kitchen windows, think about the view through the window and select curtains that can frame the view during the day time, and also can provide some privacy at night if needed.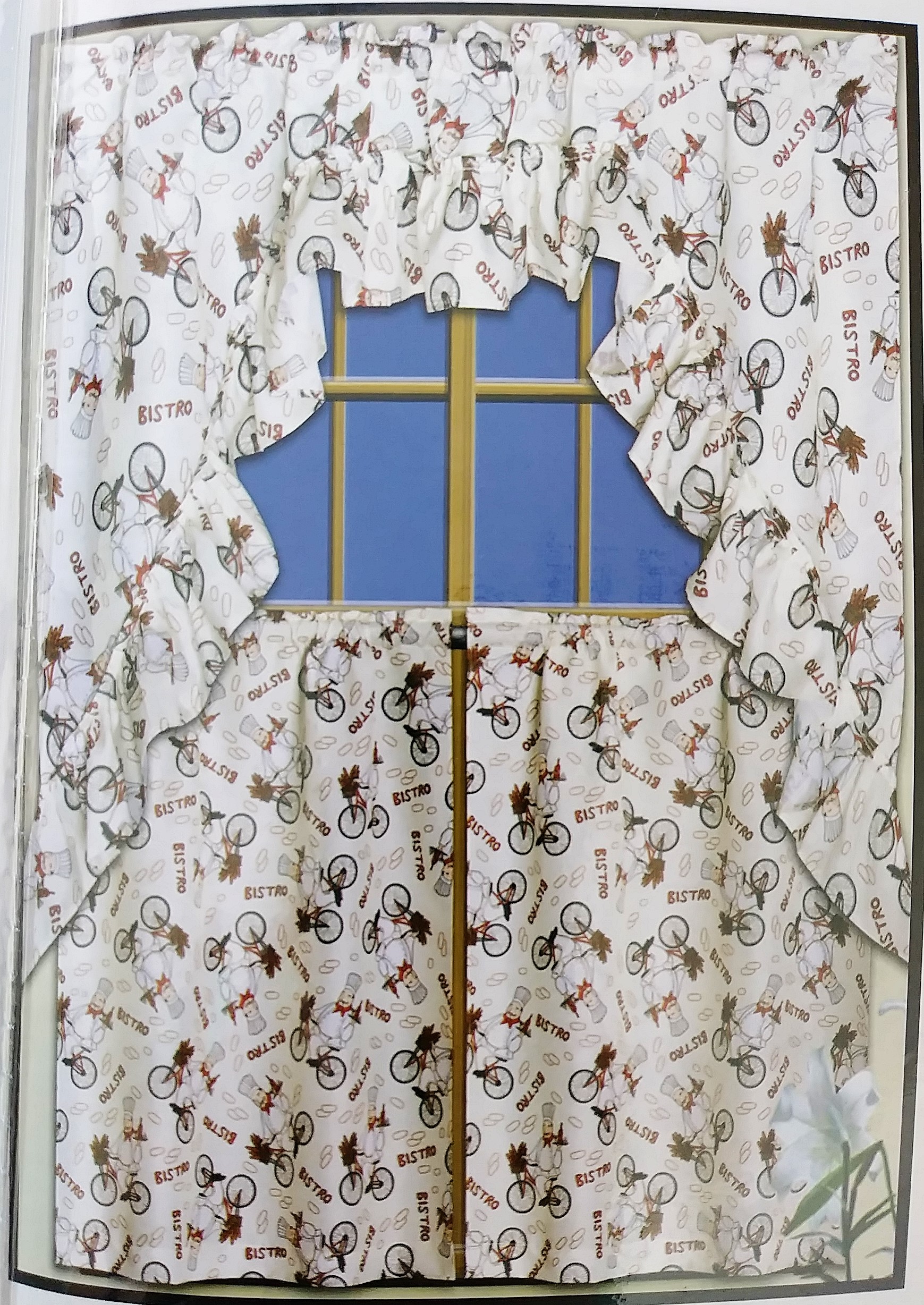 These fat chef curtains feature a chef on a bicycle holding a tray of red wine and a basket of French bread. They are also available in the store here.
Fat Chef Kitchen Linens
An easy way to accessorize your home with some chef kitchen decor is to use linens: towels, pot holders, oven mitts, placemats, tablecloths, etc.
They are affordable, easy to replace or switch out, and washable.
This set features a cook working with a mixing bowl on a red and white check tablecloth with lots of ingredients around him. You can check it out in the store here.
Chef Wall Decor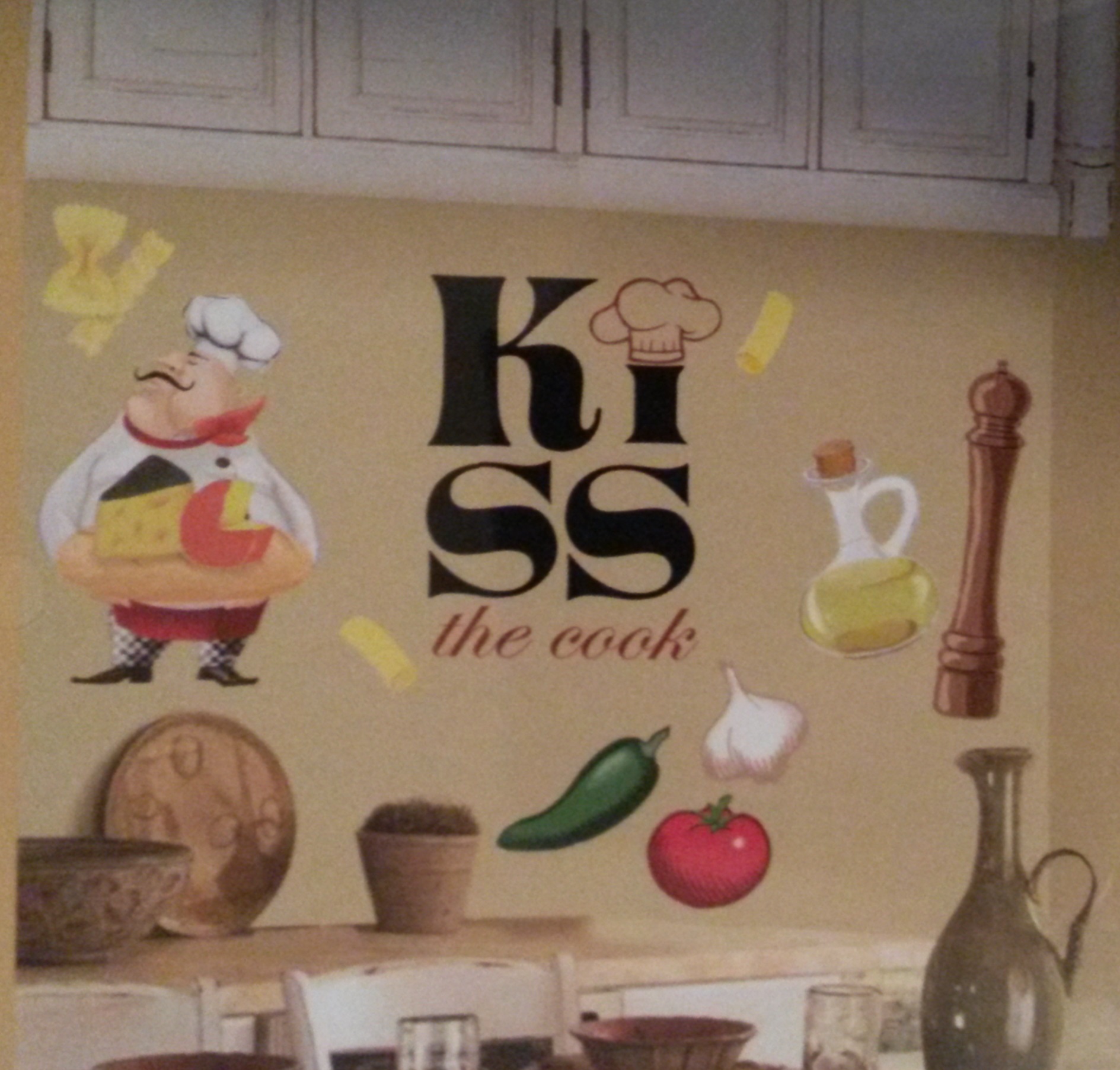 Another way to add some chef kitchen decor to your space is to use wall art: framed pictures, plaques or wall decals.
This "Kiss the Cook" wall decal set features a fat chef holding a tray of cheeses, with other italian chef ingredients like olive oil, pasta, tomatoes, garlic and peppers.
Chef Countertop Accessories
You can find all kinds of "fat chef" themed decorative kitchen countertop accessories that add both form and function to your kitchen. Look for fat chef paper towel holders, utensil caddies, wine bottle holders, canisters, sugar or toothpick holders and more.
French Chef Kitchen Decor
Love Paris? Are you a lover of all things french? Then choose French chef kitchen decor to brighten up your kitchen space.
Look for accessories that feature a chef making french baguettes, highlighting a french cafe or bistro, or featuring french fleurs-de-lis decorations, wine chateaux, Paris / Eiffel Tower designs and more.
Italian Pizza Cook Decor
Who doesn't love pizza, pasta and all the rest of Italian cuisine?
Feature Italian chefs in your kitchen to highlight your love of Italy and Italian food! You can combine it with Tuscan decor, or an Italian pizza shop / bistro design like these placemats shown below.
Fat chef kitchen decor sets
You can also find complete chef kitchen decor accessory sets in various online stores such as Amazon, etc, where you can purchase matching sets including towels, placemats, rugs, and countertop accessories, for example.
Click here to check out all the chef decor listings in our store.
---